Introducing Chamber Irish Whiskey
Triple Distilled Single Malt Matured In Oloroso Sherry Casks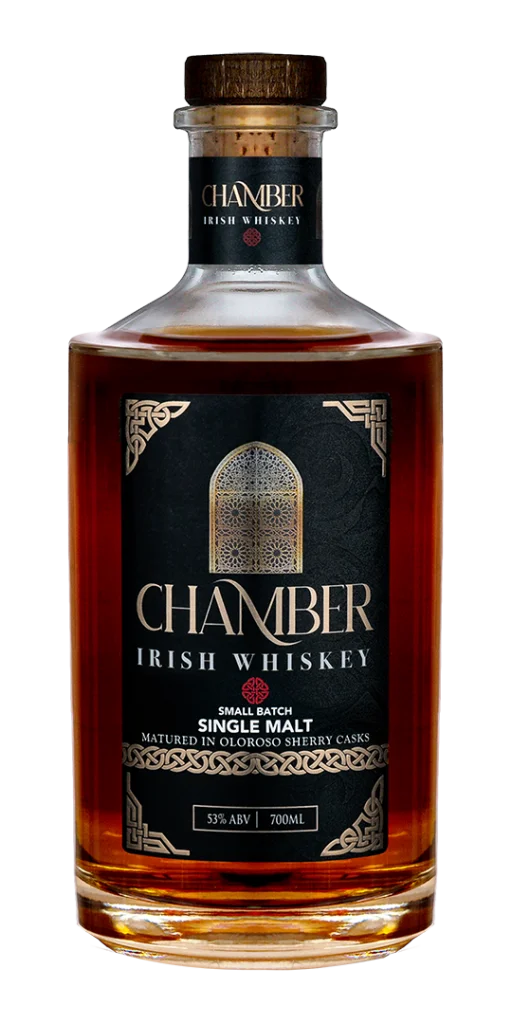 Honouring A Timeless Tradition
Message from Chamber Whiskey
Old Traditions, Reimagined...
Long ago, the love of warrior Cael Ua Neamhnainn, Creidhe, created ales and spirits in her chamber of silver and yellow gold. With Cael killed in battle and Creidhe passed on of a broken heart, the chamber full of spirits is lost but the craft is never forgotten…
Many years later, the warriors return and smash open the old chamber door, to reveal the mysterious aging casks. A disgorged cupful is handed to a young apprentice who sips it… he is enchanted by the flavour. The warriors vow to henceforth protect the precious liquid and declare themselves 'Fianna of the Chamber'..
The ancient crafting of spirits in Ireland has inspired us to seek out the aged and rare, where whiskey transcends a generation and Chamber Irish Whiskey is born.
The apprentice returns for more…
Slide
Fully Matured in Oloroso Sherry Casks. Bold but smooth on the palate, with a taste that is remarkable for its age and strength, a surprise equalled by its deep and rich natural colour.
Slide
This triple distilled single malt has spent its entire maturation in Oloroso sherry casks. We've bottled this whiskey at an approachable 42% ABV, revealing a rich palate of flavours, from fresh and poached orchard fruits to prominent sultana.
Slide
12 Year Blended Irish Whiskey
A harmonious blend of Irish malt and grain whiskey. Eleven years of maturation in ex bourbon and a 1 year finish in the Oloroso sherry cask gives this blend considerable depth of flavour and body with an intriguing spice character.
Slide
This stunning single malt has been given 18 years to mature in ex bourbon and Oloroso sherry casks. This leads to exceptional smoothness, depth of flavour and character while showcasing that greatness can be achieved with patience. ABV: 53%.

Cask Club Sales Now Available
The Fianna Warriors and protectors of 'The Chamber' – a vault of forgotten casks and precious treasures…
Join our whiskey club for a stake in our chamber of aging casks, free bottles of whiskey, merchandise, tasting events and a unique digital collectible (NFT). Limited memberships dropping Spring 2023.
Join our online community here for general chat, whiskey chat and more:
Come meet the people behind the whiskey and see how the magic is distilled into every drop.
Book a tour below
A selection of our favourite cocktails made exclusively from our range of signature single malts.