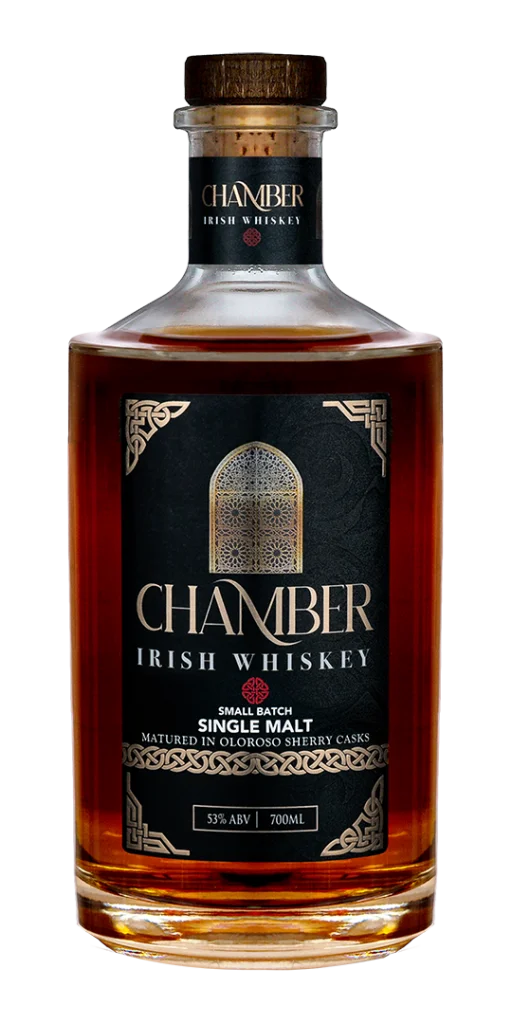 Fully Matured in Oloroso Sherry Casks. Bold, but smooth on the palate with a taste that is remarkable for its age and strength, a surprise equalled by its deep and rich natural colour.
Nose: Sherry bomb with dried dark fruits, comprising plum, dried red currents, subtle notes of sultana and a hint of fig. In the background: vanilla pods, baking spices such as clove and cinnamon, rounded with brown sugar. An after thought of leather lingers.
Palate: Prominent sherry carries over along with the dried fruits: plum, red currents. Subtle sultana,  caramel and vanilla emerge, transitioning to spice, cinnamon and clove.
Finish: Long, deep, with a pleasant, subtle dryness, dried dark fruit and a hint of leather and spice.
€59
This triple distilled single malt has spent its entire maturation in Oloroso sherry casks. We've bottled this whiskey at an approachable 42% ABV, revealing a rich palate of flavours, from fresh and poached orchard fruits to prominent sultana.
Nose: Freshly picked green apples, poached pear spiced with cinnamon and clove, sultana, vanilla pods.
Palate: All the fruit from the nose becomes candied on the pallet and leads to a burst of toffee apple with sultana and sweet figs from the Oloroso cask. Just hiding in the background is vanilla custard and honey..
Finish: Sultana and toffee still linger with final notes of dark chocolate and spice.
€49
12 Year Blended Irish Whiskey
A harmonious blend of Irish malt and grain whiskey. Eleven years of maturation in ex bourbon and a 1 year finish in the Oloroso sherry cask gives this blend considerable depth of flavour and body with an intriguing spice character. 53% ABV.
Nose: Dried citrus fruit peel, vanilla pods, and clove.
Palate: The spice and citrus carry over to give a generous spiced orange burst followed by caramel and a hint of dried dark fruits.
Finish: Long and spicy.
€85
This stunning single malt has been given 18 years to mature in ex bourbon and Oloroso sherry casks. This leads to exceptional smoothness, depth of flavour and character while showcasing that greatness can be achieved with patience. ABV: 53%.
Nose: Strong plum, figs, vanilla beans and a hint of oak.
Palate: Heavy spiced dark fruit explosion with creamy butterscotch, oak and a hint of green apples.
Finish: Long, powerful and memorable with lots of spice and vanilla.
€160